Image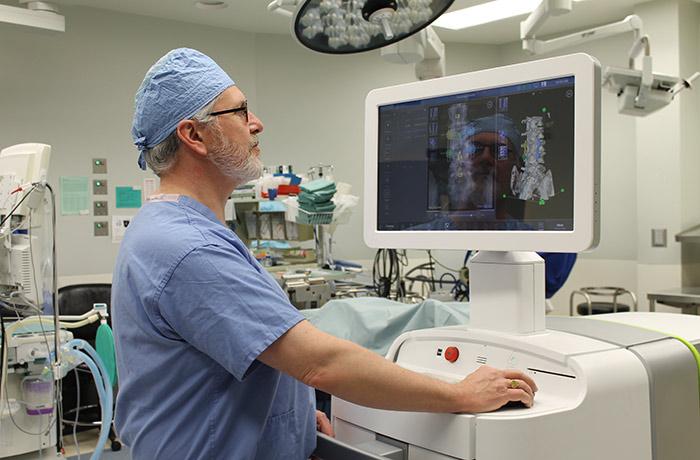 Surgical patients will benefit from addition of latest robotic-guided technology
With a continual commitment to quality of care, Holland Hospital has acquired the Mazor X™ Stealth Edition Robotic Guidance Platform – the latest advanced technology for minimally invasive spine surgery.
In Michigan, Holland Hospital stands alone in having the Mazor X™ Stealth Edition, the da Vinci® Si surgical system and Mako® Robotic-Arm Assisted technology. All three surgical tools provide patients with improved outcomes, less pain and rapid recovery.
The Mazor X™ Stealth Edition is the latest technology for spine surgery made available by Medtronic. The system combines pre-operative imaging and intra-operative guidance, allowing for safer, more efficient spinal fusion surgeries for patients who are candidates for this procedure. Used by specially trained neurosurgeons and orthopedic surgeons, this technology is another key part of the hospital's ongoing commitment to deliver the highest quality care.
"The robotic-guided technology enhances the surgeon's human skills with superior precision while the surgeon still retains full control throughout the procedure. This allows us to deliver the best possible treatment which leads to better outcomes as well," said David Lowry, MD, Holland Hospital Medical Director for Neurosurgery.
The imaging component of the system provides a customized 'blueprint' of a patient's spine along with detailed locations for spinal screws. "The robotic arm helps guide the surgeon as he or she places the screws into the proper locations with greater efficiency, less reliance on x-ray imaging and higher accuracy," adds Dr. Lowry.
In general, robotic-assisted technologies allow for greater precision and speedy recovery. For example, the Mako enables orthopedic surgeons to more easily pinpoint and replace the damaged part of knee while sparing surrounding healthy bone and ligaments.
Similarly, the da Vinci Si system enables surgeons to perform certain surgeries (e.g., hysterectomy and surgical removal of the prostate) through tiny, one-to-two centimeter incisions, or in some cases, a single incision through the navel. Having this advanced, robotic-assisted surgery can mean less pain, fewer complications and a quicker recovery when compared to traditional procedures.
Holland Hospital is one of an exclusive number of hospitals in Michigan offering access to the very latest in surgical technology.