Patient Visitation Guidelines
Please Note
Masks are optional at all Holland Hospital facilities including offsite locations and Holland Hospital Physician Offices. 
Visitors experiencing respiratory symptoms or fever, should not visit patients in the hospital.
Patients arriving with respiratory symptoms at any location will be asked to wear a mask. 
Isolation precautions remain in place for patients with COVID-19 or other infectious diseases.
General Hospital Visiting Hours:  6 AM – 9 PM
Children under the age of 16 must be supervised by a visiting adult.
Exceptions to the visitor policy may be made on a case-by-case basis.
Emergency Department:  Limited to any two visitors (ages 16+) at a time. 
2 West, 4 West, 5 West, Spine/Ortho, ICU/TU Non-COVID-19 Patients: Limited to any four visitors at a time.
COVID-19 and Isolation Patients: Limited to same two adult visitors (ages 18+) during patient's stay.
Appropriate PPE is required. 
Visitors must remain in patient's room during visit.
6 West Behavioral Health: Visiting Hours: 6 PM – 8 PM. Limited to four visitors per patient per day.
Cath Lab, Endoscopy, Surgery and Radiology Patients: Limited to two visitors on the day of the procedure.
Boven Birth Center - One designated adult support person plus:
Labor and Delivery (Non-COVID-19 Patients): Two adult visitors who may also stay past the end of visiting hours through the time of delivery. 
After Delivery/After Hours: One designated support person. 
After Delivery (Non-COVID-19 Patients): Four visitors during visiting hours. 

Siblings under the age of 16 must be supervised by another visiting adult.

Special Care Nursery (Non-COVID-19 Patients): Maximum of two adults at the bedside at a time, one of whom must be wearing the infant's matching ID band. 
COVID-19 Positive Patients: One designated adult support person.
---
Interpreters
Holland Hospital provides language services for clinical interpretation free of charge to Limited English Proficient (LEP) patients and those with sensory limitations, including deaf and blind individuals, who request interpretation assistance. These services are available at all times at all Holland Hospital locations 24 hours a day, upon patient request. Bilingual hospital staff may interpret. Patients may also request a family member, friend, or minor to interpret. Holland Hospital will ensure that all vital documents are translated accurately into the primary language of LEP patients.
Service Animals
Holland Hospital complies with state and federal law to allow persons assisted by service animals to enter our facilities, utilize our services and visit patients with the assistance of their service animal. For the purposes of patient safety, Holland Hospital has designated certain areas as restricted, and service animals will not be permitted per hospital policy. Both patients and visitors are encouraged to inquire prior to arrival, and or/if there is concern about access to these areas. For questions or concerns please call (616) 394–3742.
Hospital Phones & Cell Phones
Telephones are provided in each room for patients to use at any time and instructions are printed on the phone. Operators will transfer calls to patient rooms between 8 am and 10 pm Friends and family may call the patient directly if they have been given the number of the patient's bedside phone.
In order to preserve the privacy of our patients, visitors and staff, video and audiotaping by patients and visitors are prohibited in the hospital. Recording childbirth at Boven Birth Center, in consultation with your physician, is the only exception.
Parking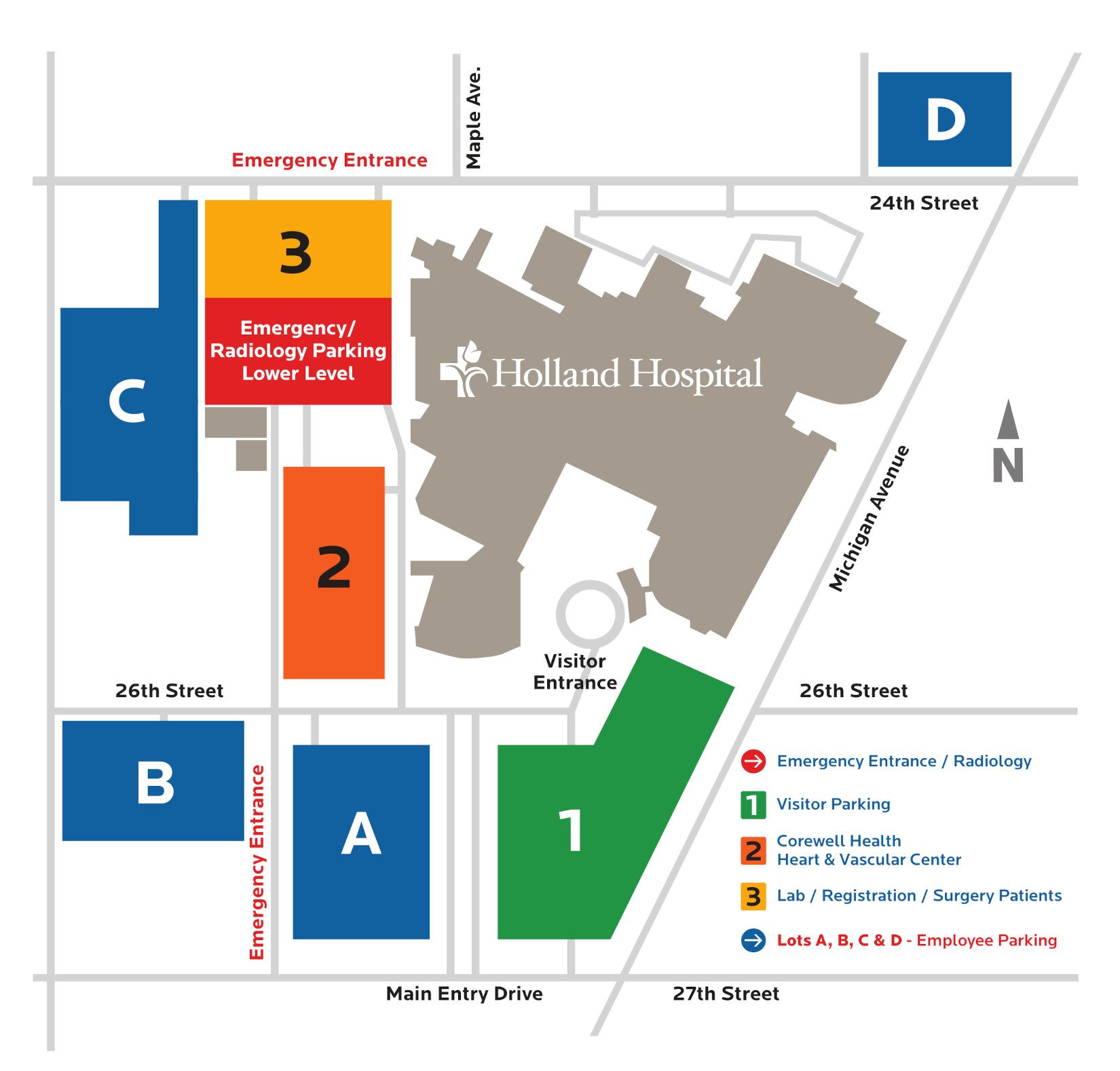 For ease and convenience, Holland Hospital uses a new numbered parking system. Look for new numbered parking lots 1, 2 or 3. The Emergency and Radiology parking lot designation will not change. Click here to get directions to the hospital.
Internet
Holland Hospital has a Wi-Fi available to patients and guests in our Café, Coffee Cove, all waiting areas and patient rooms. We ask that you use good judgment and respect others around you while sharing our network.
Gallery 602
Holland Hospital offers space to showcase the works of various artists through Holland Friends of Art, a local artist collaborative. Each month, a new artist exhibit is on display in the gallery located in the Lower Level Lobby off the Visitor (green) hospital entrance. Art is one way Holland Hospital provides a relaxing and healing environment for our patients and visitors.
Whether you are in the market for a new piece of art or need a peaceful getaway, Gallery 602 is a destination you'll only experience at Holland Hospital. We encourage you to stop by.
The Café
The Café is open and serves healthy and delicious meals for visitors and hospital staff seven days a week; the eatery features a wide selection of meal options and a bright and welcoming dining area. The Café is open to the public and also offers an outdoor patio. In additional, sandwiches, dessert items, snacks, specialty coffees and juices are available during open hours: Mon - Fri 6:30 AM - 7:30 PM; Sat - Sun 6:30 AM - 2:30 PM.
If you are visiting a patient, you are welcome to enjoy your meal with the patient. Just take your tray to his or her room.
Vending Machines
Vending machines are located in the hallway next to The Café entrance. Vending machines for beverages and healthy snacks are also located throughout the hospital.
Gift Shop
The Gift Shop, located near The Café on the main level, is open to the public. It features a unique variety of gift and home items, baby clothing, personal items, books, cards and flowers.
Whether you're looking for something special for a patient, a gift for a special occasion or a unique item for your home, the Holland Hospital Gift Shop offers a wide selection of specially merchandise. The Gift Shop is operated solely by Holland Hospital volunteers, who stock the store with merchandise from hard-to-find, local and out-of-state markets. And just in case you forgot something, the Gift Shop also stocks personal care items.
The proceeds are donated back to the hospital for the benefit of our patients.