Image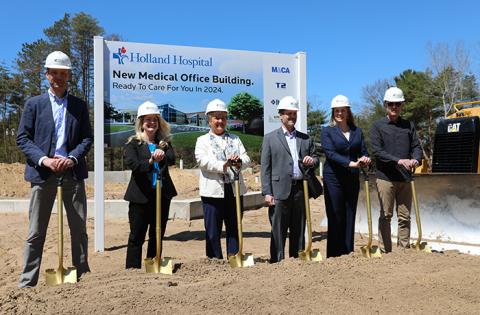 New health care facility to provide increased access to care
HOLLAND, Mich., April 26, 2023 — Holland Hospital leaders and community members gathered today to break ground on the new Holland Hospital Medical Building in Saugatuck. The 16,940-square-foot medical building, conveniently located off Blue Star Highway, will house primary care, radiology, lab and rehabilitation services. When open in Spring 2024, the facility will expand access to local health care for the residents of Allegan County.
Holland Hospital has served West Michigan for more than 100 years with facilities in Holland, Zeeland, Grand Haven, Douglas and South Haven. The completion of Holland Hospital Medical Building in Saugatuck will serve the health care needs of residents from the Saugatuck, Douglas, Fennville, Pullman and Hamilton areas as well as all of Allegan County.
Ottawa and Allegan Counties are both among the top 5 fastest growing counties in Michigan - ranking #1 and #4 respectively. Together, these two counties are now home to over 420,000 residents. Over the last decade, Allegan County has grown by 8.2% and Ottawa County has grown by 12.3%, adding a combined total of nearly 42,000 residents.
 
"The Holland Hospital Medical Building in Saugatuck is a major step in continuing our mission of providing local, high-quality health care for the lakeshore community from the lakeshore community," said Holland Hospital President Patti VanDort. "This addition will help meet the immediate health care needs of vibrant and growing communities now and for years to come."
Holland Hospital has provided Lab and PT/Rehabilitation Services in Douglas for several years. In 2014, the Holland Hospital Family Medicine office opened here with Dr. Jason Myers and has consistently seen high demand for care ever since. 
Primary care providers and staff from Holland Hospital Family Medicine office in Douglas will relocate to the new medical building once completed. Holland Hospital's Douglas office will remain fully functional during the construction of the new medical building.
The family medicine office will have space to accommodate up to seven providers seeing patients daily when opened providing increased access to convenient same/next-day appointments, walk-in and virtual care.
Focusing on patient convenience, Holland Hospital Medical Building in Saugatuck also will offer expanded radiology services including X-ray, echocardiograms and ultrasounds, expedited lab services, and optimal space for exercise and recovery for physical therapy and rehabilitation.
 
As Holland Hospital looks to the future, additional specialties may be incorporated into the facility and could include endocrinology, gastroenterology, general surgery, neurology, rheumatology and urology.  
 
Michelle Doctor, vice president of Holland Hospital Physician Offices, shared that she anticipates Holland Hospital Medical Building in Saugatuck will provide 28,000 total patient visits annually.
"The groundbreaking will allow us to provide the best local care to residents by delivering greater access to convenient, high-quality care," said Doctor. "We are proud to offer residents an environment focused on wellness to enhance the overall health of the community, while providing an outstanding patient experience."
 
Construction of the medical office is led by architectural firm Matthei & Colin Associates alongside engineering firms Driesenga Associates and IMEG and construction company T2 Construction. 
CONTACT
mediarelations@hollandhospital.org
c: (616) 294-7330