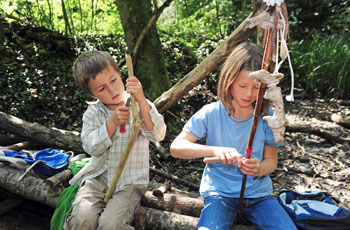 The summer always brings a lot of excitement to kids because school is out and they're looking forward to sleeping in and fun summer activities. However, parents don't always see it the same way. Who will bring them to these activities and pay for them? How will I keep the kids busy, happy and from fighting with each other?
West Michigan has an abundance of low cost and free options. Both Holland and Zeeland have splashpads for kids to freely run in, and the beach is always open for swimming, walking and building sandcastles. There's also a number of wonderful parks with walking trails—Outdoor Discovery Center, DeGraff Nature Center and Pigeon Creek to name a few. If you're up for more of a challenge then climb up the stairs of Mt. Pisgah.
If your little ones like animals than maybe a visit to Critter Barn or story time at Decadent Dogs on a Saturday afternoon is in order. At Decadent Dogs you can bring your own dog or find one there and share dog-related stories with a special friend.
Or, if you're not an animal lover, than maybe a trip to the library is better. They not only have books to borrow, but toys to play with, story times and fun activities scheduled regularly. It's a good place to go when the weather isn't as nice. Engedi Church, Christ Memorial and Central Wesleyan Church all have indoor playgrounds that are free and open to the public too. (Check websites or call for hours).
There are also a number of weekly events to attend in the summer. Street performers will be out on 8th Street in Holland every Thursday evening (6:30 – 8:30). Musicians, jugglers, aerial acrobats and face painters are also there.
Friday evenings (also 6:30 – 8:30) you'll find the Lakeside Concerts in Kollen Park where you can hear a new band each week for free—bring a blanket, lawn chair or picnic, if desired. There are also free children's activities available at the Farmer's Market on Wednesdays between 9:30 and 11:30 a.m. Bridge Cards are accepted for fresh produce.
There are also some one day events for those who like engines: "Remember When" Vintage Care Show and Cruise (June 2nd), Vintage Boat Show (August 26th), and Labor Day Truck Parade (September 4th). Or for those who like things a little quieter there's Herrick Library Fest (June24 th), Grand Haven Kite Festival (May 20 – 21) and Art in the Park (August 5th).
In between all of that, there are bike rides, picnics, forts to build, walks to take, playing catch, camping in your backyard, sidewalk chalk pictures, pipe cleaners and a colander to sculpt with, bubble blowing, play-doh and slime to make, cardboard box forts, and many other activities in which you are only limited by your imagination (or google ideas to use the imagine of someone else). Be a kid again and do these activities with your kids. You won't believe the amazing conversations and smiles that spontaneously happen when you are having fun together.
Wishing your family a safe and enjoyable, memory-filled summer.
Dr, Krause