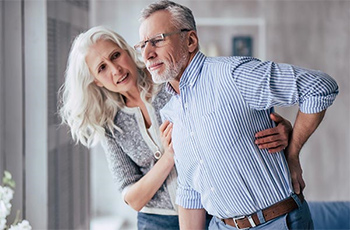 The most common reason people seek medical care isn't diabetes, cancer or even heart disease. According to the National Institutes of Health, it's pain. In fact, it's estimated that 100 million Americans struggle with pain symptoms daily, and chronic pain is the nation's leading cause of long-term disability.
What is Chronic Pain?
Chronic pain is ongoing pain that persists beyond six months. This debilitating pain lingers after an injury has healed or an illness has gone away. Pain signals in the person's nervous system can remain active for months and even years. Chronic pain is linked with a variety of health conditions, such as arthritis, back pain, cancer and fibromyalgia. Some people also have chronic pain when there's no past injury or medical issue.
Unrelieved acute pain can sometimes also lead to chronic pain. Acute pain is often characterized as pain that feels sharp, is caused by something specific (such as surgery, a broken bone or labor and childbirth), usually comes on suddenly, and doesn't last longer than six months. After acute pain subsides, the person can usually resume a normal and full life.
Relieving Pain and Regaining Life
Pain isn't something that's "all in people's heads" or just an easy route to collecting disability. It's a very real and disruptive medical issue—one that's been further complicated by the over-prescribing of opioids. Sometimes, however, opioids can do more harm than good. Certain patients may experience worsening of pain and function, and subsequently become dependent or addicted.
So what can chronic pain sufferers do to cope, without resorting to opioids?
The good news is, hope is available through Holland Hospital Pain Management. While the evidence supporting the lasting effectiveness of opioids in treating chronic pain is lacking, Dr. Ann Monroe, the practice's pain management specialist, offers interventions that can provide relief and make a profound difference in quality of life.
Dr. Monroe is a physician who has received additional training in the evaluation, diagnosis and treatment of pain. Her training fosters greater understanding of the unique complexities of pain management, including advanced diagnostic testing, prescription medications, and procedures like nerve blocks, spinal injections and other interventional techniques. She can also coordinate physical therapy and behavioral counseling as needed, delivering a comprehensive and multidisciplinary care approach.
Specific treatment options available include:
Facet nerve blocks of the neck and spine
Cervical, thoracic and lumbar epidurals
Sacroiliac and hip joint injections
Trigger-point muscle injections
Physical therapy
Medication management: acetaminophen (e.g., Tylenol), non-steroidal anti-inflammatory drugs (NSAIDs; e.g., ibuprofen) and adjuvant medications (e.g., muscle relaxants, nerve modulators, antidepressants, and other drugs that can improve pain, mood and sleep)
Mindfulness strategies like meditation and acupuncture
If you're in pain, you don't have to grin and bear it or go it alone. Discover your path to relief at Holland Hospital Pain Management.