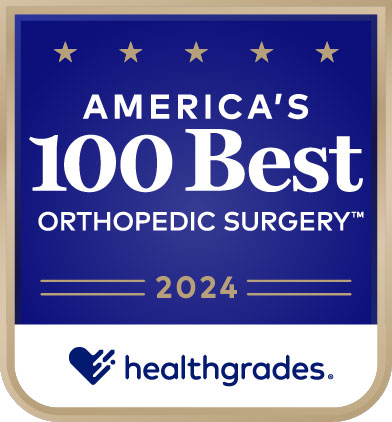 #1 in Michigan for Orthopedic Surgery
Holland Hospital Orthopedic Services is dedicated to helping you stay healthy and on the move, whether you're facing a sports-related injury, in need of hip, knee or other joint replacement, or coping with the symptoms and challenges of arthritis.
Life is a moving experience. If you're looking to regain function and mobility, perform everyday tasks with less pain, or return to your favorite sport or recreational activity, our experienced orthopedics team is here for you. Our comprehensive, close-to-home orthopedic care is consistently recognized for achieving superior outcomes, offering leading-edge techniques and receiving high patient satisfaction.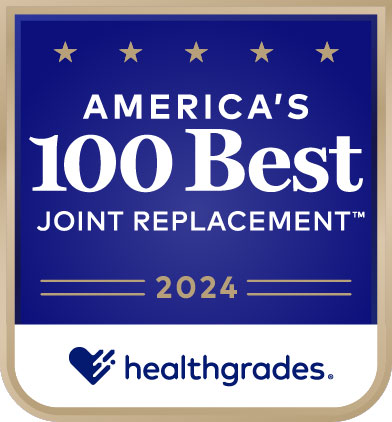 #1 in Michigan for Joint Replacement
Are you or someone you know considering joint replacement? Holland hospital ranked #1 in Michigan for quality outcomes in joint replacement surgery.
Our areas of specialization include:
Hips: Don't let chronic hip pain keep you from living an active and full life. We offer several options for relief and restoration of mobility, including total hip replacement (traditional or anterior approach) and hip resurfacing.
Knees: When your knees hurt, a simple walk to the mailbox can feel like a marathon. Whether you're dealing with arthritis or a knee-related injury, we have solutions for relief and restoration of mobility, including partial and total knee replacement.
Shoulders: Shoulder pain can limit your freedom to perform daily activities, including dressing, bathing, driving and reaching into cupboards. Our experienced doctors have the expertise to skillfully evaluate and relieve your shoulder pain, providing treatment options like minimally invasive arthroscopic surgery and total joint replacement.
Hand & Wrist: With so many delicate bones, ligaments, tendons and joints, injuries to the wrist and hand are common. Fortunately, today's advanced treatments can deliver pain relief and restore mobility to these common injuries, often on an outpatient basis.
Foot & Ankle: Your feet can be the first area to show signs of serious conditions, such as diabetes and heart disease. That's why our orthopedic experts deliver highly effective solutions for injuries and disorders of the foot and ankle, as well as comprehensive support for keeping pace with everyday life.
Learn more about orthopedic conditions and treatments.  
Joint Replacement Center
Making the decision to undergo hip, knee or shoulder replacement surgery is often the last step in a series of treatment options you've explored to manage the pain and stiffness associated with arthritis. When you're ready to take this next step, Holland Hospital's Joint Replacement Center delivers quality and experience you can trust.
Our comprehensive, award-winning program begins the moment your surgery is scheduled, and continues with information and support throughout preparation, hospitalization and recovery. Working in tandem with you and your primary care doctor, our surgeons and multidisciplinary team of professionals incorporate evidence-based practices from around the country to ensure the best possible outcomes.
Sports Medicine
Holland Hospital Sports Medicine is your lakeshore leader, with the expertise to keep you at the top of your game. Athletes, weekend warriors and elite competitors alike can count on our team of fellowship-trained doctors and orthopedic experts to help them stay in or return to the game. Our specialists provide access to both nonsurgical and surgical care, treating everything from concussions to back, knee and ankle injuries, as well as the all-too-common arm and elbow injuries associated with overuse.
Our Orthopedic Team
At every stage of your care, our multidisciplinary team will give you personalized, undivided attention. A range of specialists provide the highest-quality orthopedic care at Holland Hospital. Working closely with primary care physicians, our team members include orthopedic surgeons, physiatrists (doctors who specialize in physical medicine and rehabilitation), sports medicine specialists, advanced practice providers (APPs), nursing and rehabilitation staff, who specialize in the care of orthopedic conditions. Together, this team delivers the full continuum of orthopedic care, from diagnosis and education to surgical and nonsurgical treatment to rehabilitation and home health support.