Image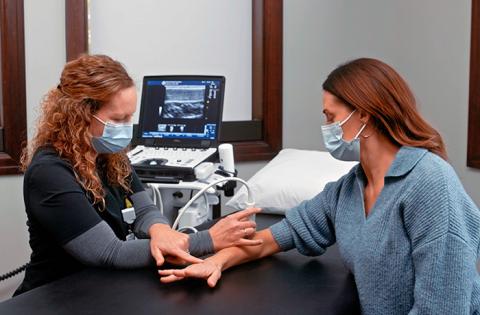 Holland Hospital continues to earn national recognition as a health care leader in West Michigan. This month, the hospital has been honored as a Healthgrades Outstanding Patient Experience Award™ recipient for 2023. The distinction places Holland Hospital among the top 5% of hospitals nationwide for patient experience, according to Healthgrades, the leading marketplace that connects people with the right doctor and hospital.
Holland Hospital has received the Outstanding Patient Experience Award™ for 15 years in a row (2009-2023) and has also been among the Top 10% of Hospitals in the Nation for Patient Experience for 15 consecutive years. Earlier this year, Holland Hospital was ranked #1 in Michigan for Surgical Care, Orthopedic Surgery and Joint Replacement.
"This recognition reflects an organization-wide commitment to provide exceptional care for our valued patients," said Patti VanDort, Holland Hospital President. "It is a direct result of our culture of quality, skilled teamwork and continuous effort to effectively serve the communities across West Michigan. We are grateful for the excellent work and dedication of all our medical staff, employees, and volunteers."

Healthgrades evaluated the performance of 3,138 hospitals across the nation by applying a scoring methodology that incorporates multiple measures of patient experience. The data is collected from surveys of the hospital's own patients. Consumers can visit healthgrades.com for more information on how Healthgrades measures hospital quality and patient experience.

For more about Holland Hospital's commitment to quality and exceptional patient care, visit hollandhospital.org/aboutus.

About Holland Hospital
Holland Hospital, located in Holland, MI, is a nationally recognized leader in quality and value with advanced technology and extraordinary patient satisfaction. The independent hospital offers a full range of inpatient and outpatient services, multiple convenient locations and ready access to primary care physicians and experienced specialists. The hospital is also among just 14% of hospitals in the nation to earn the top CMS 5-Star rating and one of the few to consistently achieve the top rating since it was introduced in 2008. Holland Hospital's workplace culture has made it one of the Best & Brightest Companies to Work For in West Michigan. For over a century, the hospital's mission has been to continually improve the health of the communities we serve in the spirit of hope, compassion, respect and dignity. For more information, visit hollandhospital.org.
About Healthgrades
Healthgrades is dedicated to empowering stronger and more meaningful connections between patients and their healthcare providers. As the #1 platform for finding a doctor and a leader in healthcare transparency, Healthgrades help millions of consumers with best-in-class, treatment-focused content.