Image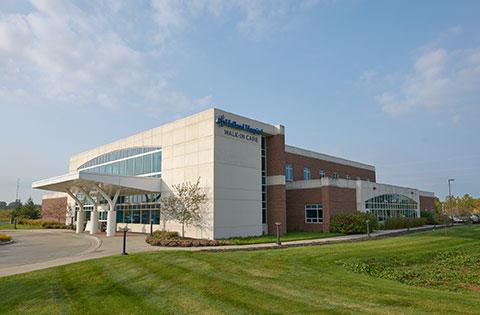 HOLLAND, Mich., May 18, 2023 — Holland Hospital and Shoreline Orthopaedics have announced the formation of a joint venture to transform the delivery of orthopedic-related health care in the West Michigan region.
"Holland Hospital and Shoreline Orthopaedics have had a long-term collaborative relationship for more than 40 years," said Patti VanDort, president, Holland Hospital. "The health care landscape is changing. The collaboration of hospitals and independent physicians is essential to ensure high-quality clinical outcomes and patient experiences while being focused on efficiency and providing high value for orthopedic health care to the region."
The partnership will feature a new orthopedic-related health care pavilion in Zeeland including:
A new 40,000-square-foot medical office building located on Westpark Way, current home to the Holland Hospital Medical Building, to provide:

An outpatient surgery center for orthopedic surgical services.
An orthopedic-focused urgent care center.
Orthopedic clinical offices featuring orthopedic surgeons and physical medicine and rehabilitation physicians from Shoreline Orthopaedics and Sports Medicine.
Outpatient physical therapy and "Return-to-Sport" rehabilitation services.
"We are pleased to partner with Holland Hospital to bring next-level, best-in-class orthopedic care to communities along the lakeshore," said Bruce Stewart, MD, Shoreline Orthopaedics.
"West Michigan is the fastest growing area of the state. As our population ages and residents stay more physically active, the demand for outpatient orthopedic services and surgeries will continue to expand well into the future."
A Letter of Intent was filed on May 1 with the State of Michigan--the first step to file the required Certificate of Need (CON) seeking approval to transfer two existing Holland Hospital operating rooms to the new location. No new operating rooms will be requested. Initial planning has begun with construction to start in late 2023 and be completed and operational in early 2025.
Holland Hospital, along with its orthopedic providers, has long been recognized as a leader in orthopedic excellence receiving honors as #1 in Michigan and America's 100 Best Hospitals for Orthopedic Surgery 2022; #1 in Michigan and America's 100 Hospitals for Joint Replacement 2022, 2023; #1 in Michigan and America's 50 Best Hospitals for Surgical Care 2022, 2023; and Top 5% in the Nation for Outstanding Patient Experience 15 years in a row.
Holland Hospital has served West Michigan for more than 100 years with facilities in Holland, Zeeland, Grand Haven, Saugatuck/Douglas and South Haven. This is another major step in continuing its mission to provide convenient local access to high-quality health care for communities from Grand Haven to South Haven. For more information, visit hollandhospital.org.
Shoreline Orthopaedics provides comprehensive services, state-of-the-art options, technologies, and techniques to address a full range of orthopedic needs. With 17 skilled providers, the practice offers both anterior and posterior hip replacement; minimally invasive surgery and specialized care for the knee, shoulder, hand, foot and ankle; expert sports injury diagnosis and treatment; and convenient onsite digital X-rays. Shoreline's orthopedic team uses a truly collaborative approach, so patients have the benefit of multiple expert opinions, without having to go elsewhere. Shoreline Orthopaedics also provides convenient access to physical medicine and rehabilitation expertise onsite as an integral part of care and recovery. For more information, visit shorelineortho.com.
###