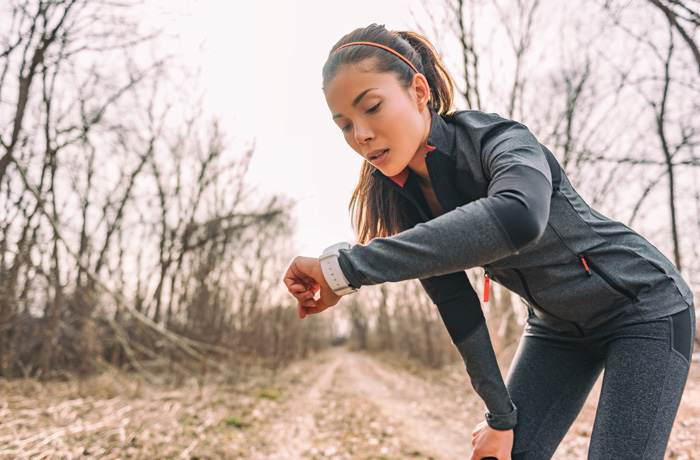 Almost one quarter of Americans use wearable fitness trackers. Are you one of them? Maybe you got a fitness tracker as a gift this holiday season, or you're considering buying one to help you meet your New Year's resolution.
Do fitness trackers actually help people meet their fitness goals? Studies show that in fact, yes – they do!
"Those who journal, track or log their progress experience the most success on their fitness journey," says Tina Vande Guchte, an ACE certified personal trainer and medical exercise specialist at Holland Hospital Healthy Life Programs. "Feedback is vital to behavior change and fitness gains."
The benefits of fitness trackers.
"One of the best reasons to get a fitness tracker is accountability," says Vande Guchte. Fitness trackers can link you to online groups where you can communicate with like-minded people or enter group challenges. Even if joining an online group does not appeal to you, tracking your individual progress is often motivating.
"Whatever your level of exercise, fitness trackers can benefit anybody," says Vande Guchte.
Choosing the right device for you.
Fitness trackers often include basic functions that track your steps, your heart rate and the number of calories you burn throughout the day. "It's important to consider what you want to see on the display while working out," says Vande Guchte.
Here are some other tips to consider when shopping for a fitness tracker:
What will you use your fitness tracker for? If you like to go for walks or runs outdoors, you may want a device with GPS. If you enjoy swimming, make sure the tracker is swim-proof - not just waterproof.

"

The right device will be based on personal needs," says Vande Guchte.
As a personal trainer, Vande Guchte finds fitness trackers useful when monitoring clients' heart rate data. If you

'

re new to training, a device with a heart rate monitor can help ensure you stay in the heart rate training zone prescribed by your trainer.
Buy a device you actually want to wear. If you plan on wearing your tracker throughout the day, make sure it

'

s comfortable.
Read the reviews for different devices and learn what functions they offer. For example, you might want to pay extra for a device that has Bluetooth compatibility, especially if listening to music or audiobooks during your workout is motivating.
Make sure any device you purchase is compatible with your phone and any fitness apps you plan on using. Fitness trackers often link to major fitness apps like MyFitnessPal or Strava.
Getting the most out of your fitness tracker.
Once you've found the device that's best for you, here are some tips to make sure you're getting the most benefit from your new fitness tracker:
The more data you want, the more you should wear your device. If you only want to know your training heart rate, you might only wear your tracker during a workout. However, if you want reach a certain number of steps each day, you should wear your device all day. Many fitness trackers offer prompts throughout the day to help you meet your goals.
You may want to wear your device at night to track your sleep cycles. This can teach you more about your own sleep patterns or help troubleshoot sleep issues.

"

That data is very helpful to me," says Vande Guchte, who is a certified sleep science coach.
Make sure you don

'

t waste precious minutes programming your device instead of exercising. Pay attention if your tracker starts to become a distraction during your workout. If you keep stopping to take calls or check messages, your device may be derailing your exercise goals rather than helping you meet them.
Lastly, fitness trackers can help you know when it

'

s time to rest and recover. Rest is a crucial part of making fitness gains, and your device can help ensure you don

'

t overtrain and possibly risk an injury.
Where can I learn more?
Holland Hospital Healthy Life Programs can help you reach your personal health goals and improve your quality of life. Learn more about the program's services or set up a one-on-one appointment with ACE Certified Medical Exercise Specialist Tina Vande Guchte.